09. 05. 2015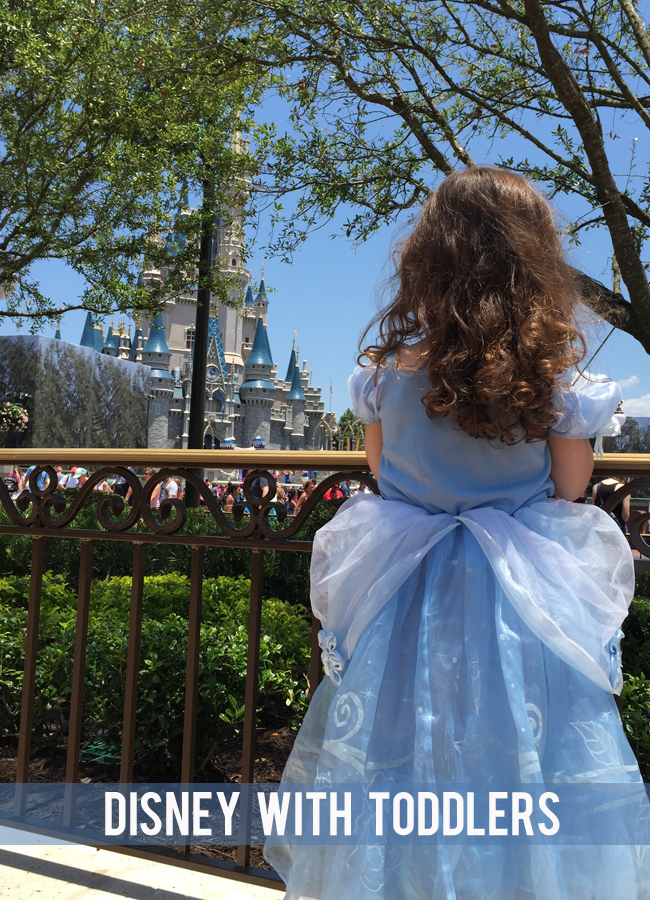 Ok full disclosure here, I'm from Orlando so I know my way around Disney World. This was not a novice attempt. However, maybe because I'm from Orlando, I've never been a Disney nut. I like it, sure, but have never been cuckoo for the culture, just never really bought in, and was certainly never one of those people who dreamed of one day taking their kids to Disney. That is, until my daughter started donning Princess gowns on a daily basis, making several "costume changes" per day and renaming Cinderella the much cooler and far superior, "Pissy-Ya-Ya". And my son, well he loves Pooh and he is my little Zen baby Pooh. So… how could I resist?
This will not be one of those hipster bloggy posts about eschewing tourist attractions with "the littles" for more remote, authentic experiences. No, I will not be blogging about hiking through Icelandic forests and huddling in igloos with my 3 year-olds or traipsing around Amsterdam with two toddlers. I'll save that stuff for when they don't need a stroller and can actually remember some vivid details and maybe even write them down. So, yeah- I loved our time with the Mouse. I loved it so much, I'm already plotting and scheming for the next visit. It is an easy fun-loving place to take kiddos.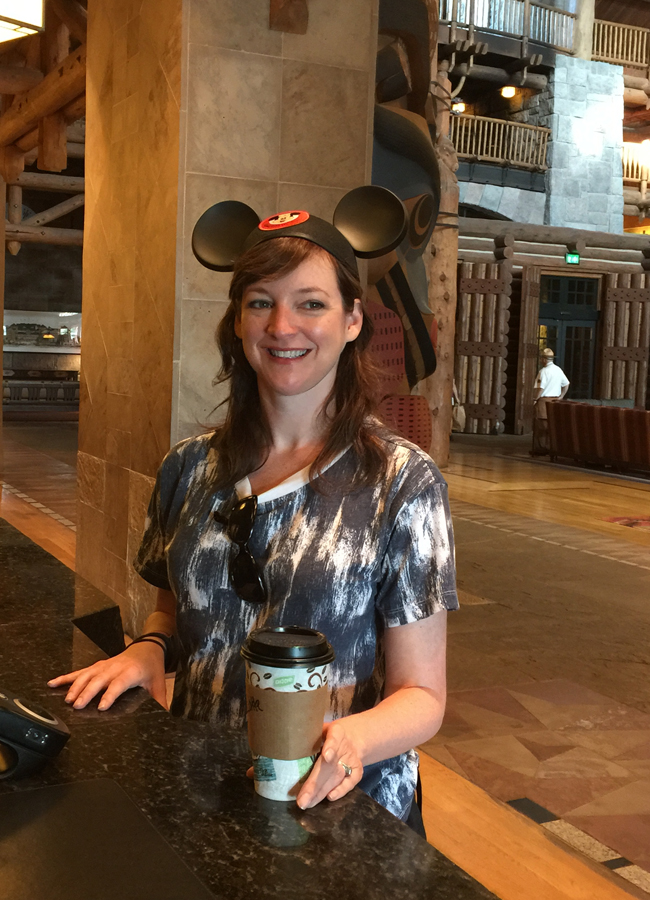 You know, just hanging in the lobby, having a coffee in mouse ears- like you do. Clearly I have succumbed. 
There are two things about a trip to Disney with Toddlers that make it especially magical, at least for us. The Disney characters (and the priceless reaction and joy on kids' faces when they meet them) and down time at the Resort (pool, sun, laughs, food and drink- you know- the good stuff). But more on that later. Let's get to the exhausting part. Yes, it's overwhelming- case in point, my daughter developed a stutter while at the Magic Kingdom which she dropped directly upon returning home (big sigh of relief). She was so in awe of the Princesses that she was quite literally rendered speechless upon introduction and did her best at standing perfectly still and giving some great side-eye. When we managed to get 10 feet away from said Princesses, and she became speechful again, she presented a pretty impressive Disney stutter.  It seems that her mouth could not catch up to those firing synapses set off by the dizzying array of multiple Princesses and characters. My boy on the other hand wasn't overwhelmed in the least and put on a few knee slappin' dances for any of the characters and Princesses that would watch.  It was awesome.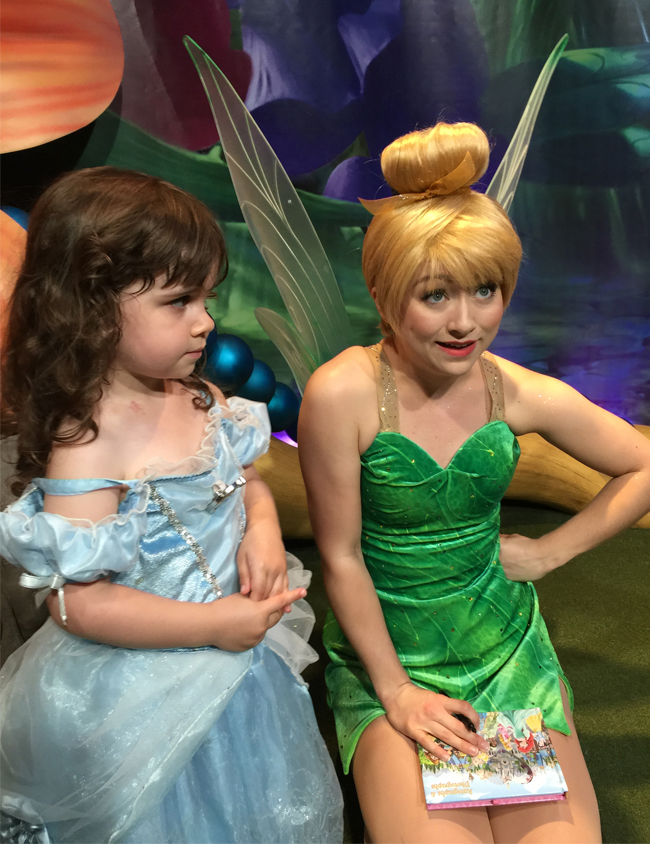 Tink and a Toddler giving serious Side-Eye.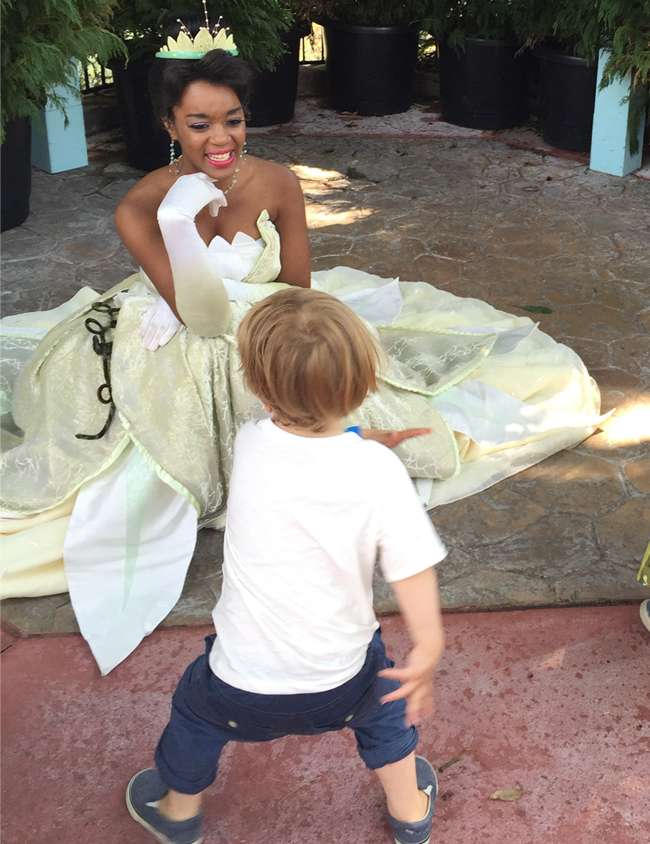 A knee-slappin' dance for Tiana. She was very nice- we took up way too much of her time with these moves. 
Stutters, side-eyes and knee slaps aside, if you find the right place to stay and don't go overboard (literally and figuratively), you're kind of Golden. This is an unbelievably super kid-happy (duh right) and- wait for it- adult-happy place to be too. So off with my shunning of all things touristy and gimmicky (who am I kidding- I love a gimmick and a touristy roadside attraction), ok- off with my built-in bias against Disney because it seems too easy, I give already- let's go.
The planning commenced a mere two months before our trip. While most all Disney go-ers know that the only way to properly plan your Disney vacay is to do so 6 months in advance (these Disney people don't play, kids- they will beat you to the punch every single time if you are not on your game) so that you can book the best rooms and most importantly, snag both the Anna and Elsa FastPass and the coveted table at Cinderella's Royal Table (because an advance rezzie there is pretty much as easy as breaking into Fort Knox), Yours Truly was NOT on point. While I'm a self-professed planning junkie, I do like to mix it up and occassionally do things on a whim- you know a fly by the seat of my pants kind of gal (thank you Pretty Woman Kit, because of you I will forever use that phrase), so while we started this journey a little late to make that meeting with the Frozen girls happen face to face, we managed to get in a few sister sightings plus steal a last minute booking at Pissy-Ya-Ya's joint. Boom.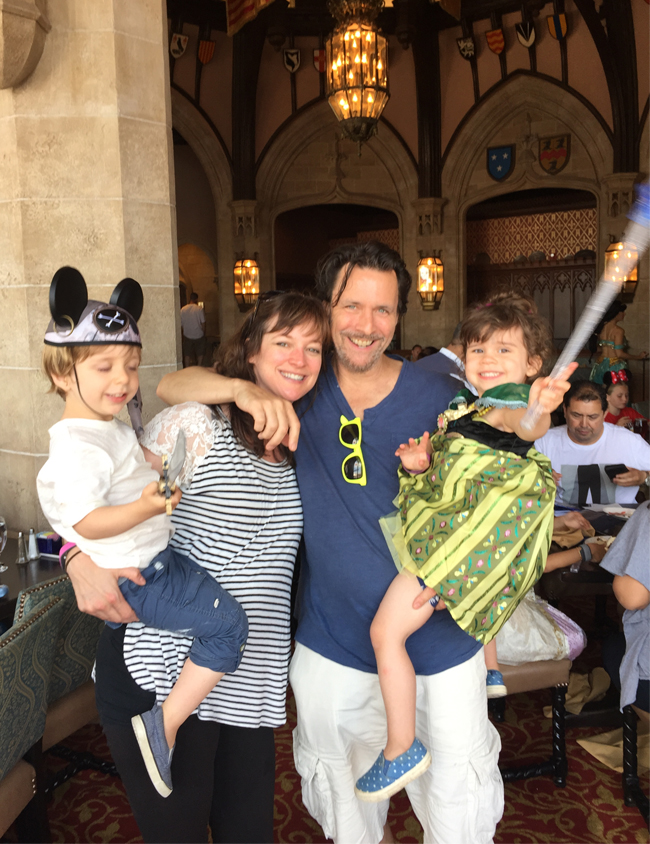 Last Minute Rezzie at Cinderella's Royal Table for the Win!
So, ladies and gentleman, kids of all ages, a few things to note while visiting the Mouse with little ones:
Do try to book your stay as early as possible. The obvious advantages here are getting the most out of your stay- first pick at the resort or lodge of your choosing, dining rezzies at your favorite spots and the coveted and hard to get FastPasses (I'm talking to you, Anna and Elsa).
Don't go in for the dining plan. It won't save you much if anything at all, is designed to be kind of confusing and wont cut it at the end of the day anyway, if you're like us and love to eat. Just pay as you go- much easier and without a real price break, it's pointless anyway. You'll end up with a surplus of Rice Krispie bars (long story- just trust me).
Don't try to do it all in one day. No matter how hard you try (and believe me, the New Yorker in me had her Gunner Mom out in full force "we will be the first in line when those gates open", there will be dozens if not hundreds that have their shit together way more than you. So don't sweat it. Plan to be at the park early(ish) if that suits you and your kiddos and do mornings at the parks. Then come back to your room, rest, nap and spend the afternoon into the early evening hanging at the pool, beach- whatever your lodging has to offer. These were my favorite days- when I didn't try to overextend us all and just resigned to being back at the resort to chill by 2:30. We enjoyed movies on the beach, poolside games, roasting S'Mores and just plain old good summer pool time. The best.
Do rent a stroller from a local stroller company (we had good luck with this one) if you do not bring your own. You will definitely need one and the strollers at the park are really uncomforable. In regular life, we rock a double stroller with the twins but single strollers were the way to go. If one kiddo was tired, the other could stay with Mom or Dad in the park, etc.
Do give props to the Princesses: they are pretty badass. I was actually starstruck by our Belle. She actually made me feel the same way I felt when I spied a real live Geisha late one night in Kyoto. Ok… maybe not quite, but I was pretty shocked at my reaction to the Princesses. I actually caught myself yelling out loud (to who, I'm not sure), "It's Tiana, Tiiiiiaaaaannnnnaaa!!!!", as she magically appeared one afternoon in Liberty Square. It was not that way in the 80s when I was a kiddo at Disney. Those Princesses were not a "thing" yet. We just had Cinderella and Snow White making the rounds, the mobs of people young and old waiting in line for hours just to snap a photo with them, did not exist. The frenzy over these gals has gotten a little crazy pants, but I will say- those Princesses deliver on all things Princessy, it's game on for the Disney Princess set. I was kind of bowled over much to my feminist women studies chagrin. It is the future of all things marketing and monetary for Disney, I guess, but still I was impressed. Aurora- not so much, but Belle- wow she'll take your breath away.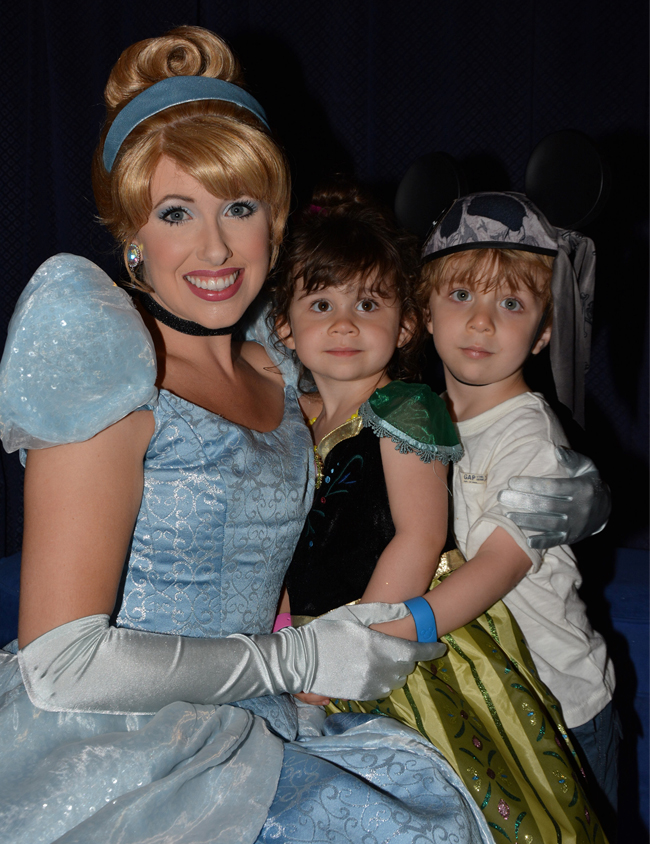 We met Pissy-Ya-Ya. What. Is. Happening. Bewildered, Bemused, Bibbidi Bobbidi Boo.
Do make it a real vacay for the adults too. Even if this is not going to be a peaceful vacation filled with R&R, you can still make the most of it by going in for a nice hotel with easy access to the parks so you wont spend tons of time on a bus and can enjoy a nice resort, pool, restaurants, etc. There are lots of value options that seem lovely but for me, I would rather pay a bit more for a little luxury and convenience. We stayed at The Villas at The Wilderness Lodge Resort and I cannot recommend it highly enough. It feels kind of like summer camp. There are outdoor movies at sunset where you can lie in lounge chairs with the fam and take in some of Disney's classic animated flicks, roast marshmallows, play poolside games and well- relax, isn't that what vacation is for anyway?
The upscale restaurant at The Wilderness Lodge is aces- Artist Point, and it's neighboring cozy lounge is a bit of a secret as you can order off both the full Artist Point menu and the more abbreviated (and less expensive but still good) bar menu. The Whispering Canyon Cafe is a little more boisterous and rowdy, but fine and fun with the kiddos. There's a poolside snack bar and straight up bar (Yes!) and a casual cafe in the hotel as well. We loved it and also loved the easy boat ride to the Magic Kingdom.
Downside: you are not on the monorail line, so it's a bus to EPCOT. We took a cab to the Polynesian which was $7 as opposed to 2 boats which would have taken way too long with two toddlers. There's no monorail service to Hollywood Studios or Animal Kingdom so no big loss there.
A few friends swear by The Polynesian Resort as well. The Contemporary Resort isn't that exciting for the little ones. The pools and lobbies at The Polynesian and the Wilderness are more fun and vibrant. Fort Wilderness is a good option if you like something a bit more rustic but still within a boat ride from the Magic Kingdom. Otherwise, there are dozens of other hotels and options that require bus transport to all parks.
A few other highly regarded and less expensive options are the Pop Century Resort for retro fanatics and the All-Star Movie Resort for Toy Story fans, this one boasts a Fantasia-themed pool. Both are farther from the Magic Kingdom than the big resorts located on the lagoon, and require a bus ride but if you don't mind the commute, a stay at these value resorts can be just as fun and much more affordable. Another popular resort technically on Disney property but not owned by Disney is the Hilton Bonnet Creek. Also a bus ride, this is a great hotel with nice rooms and a great pool including a lazy river- and who doesn't love a lazy river.
Don't Do The Following:
That silly ass Luau at the Polynesian. I was warned against this but something about a Luau at the Polynesian had me at Aloha. I couldn't resist and booked us a crazy expensive dinner at an absolutely terrible dinner show. Look, just because I myself am a show person does not mean that I am a snob about these things (ok, maybe I am- I couldn't help but watch The Beauty and the Beast show at Hollywood Studios and think how badly I wanted to take a crack at it to zhush it up), I enjoy a good cheesy dinner show but you have to go whole hog here and I'm not talking about the spit-roasted pig. The show is a mess, they don't even do a Hula or anything close to it until an hour and a half in, it's boring and misguided and we left early. The food is borderline gross too. Avoid at all costs. Next time, we'll head over to the Hoop-Dee-Doo Musical Review at Fort Wilderness. The word on the street is that this shindig is camped up in all the right ways.
Where to Eat:
Let's get down to the important stuff first and foremost- food. While Disney is not known for its revelatory food, it is getting better and better. For us, the most fun part of our trip was dining with the Characters, so those are obvious choices. Beyond that, there are some good places to eat well.
Magic Kingdom
1. Cinderella's Royal Table: this is a must. It is expensive but they put on a great diddy up there, you get 5 or 6 Princesses traipsing through the castle happily signing autographs while you eat and posing for pictures for your agog littles. Pissy-Ya-Ya, I mean Cinderella, greets everyone at the entrance and it's all very fun and fabulous. I would go again it was such fun.
2. Crystal Palace Character Dining: we loved this too. Lunch with Pooh and the Hundred Acre Wood bunch. It was just pure awesomeness to see the look on my kids' faces as the giant furry characters came by giving out hugs and autographs. Food's not bad either.
3. Be Our Guest Restaurant at the Beast's Castle: we loved this too. An elaborate dining room plays host to a pretty decent meal but the Castle is the thing. There are two smaller dining areas here as well. We pretty much loved it. We visited Belle at Enchanted Tales with Belle (one of the best things going at the park for little kids, snag your FastPass for this one) right after lunch which was great planning (if I can pat myself on the back here), as the kiddos were pretty enthralled with the castle and wound up to meet Belle.
EPCOT
This is my favorite park. I'm biased because my best friend landed in Orlando in the 4th grade from Morrocco because of Dear Disney's EPCOT. Her dad runs (still to this day) the Restaurant Marrakesh in the Morroccan Pavillion. I have always loved the cheesy and oh so wrong but oh so right World Showcase. Drinks around the world anyone? We used to start in Mexico (start at La Cava del Tequila) and work our way around to Canada. There's even a boozy ice cream parlor in France. Try the Ice Cream Martini at the L'Artisan des Glaces. See below for more on Drinks around the Fake World.
1. Princess Storybook Dining at Akershus Banquet: I think the food here in Norway is hit or miss but the real draw here are the Princesses.
2. Restaurant Marrakesh- like I said, I'm partial to this place because it's like family to me. I have years and years of memories built up in this joint. And what's not to love- belly dancers, couscous, a palatial setting- it's awesome.
3. Monsieur Paul- formerly the Bistro de Paris, this is still Paul Bocuse's place. It's always good and I've always been a fan. It's a little more buttoned up than most of the Disney restaurants, but it's awesome. Request a table by the window to view Illuminations from the comfort of your seat, wine in hand. Chefs de France is the more casual but still great choice in France.
4. San Angel Inn Restaurante- I love this place in Mexico. It's beautiful in a theme park sort of way, great ambience as you dine along the river with a view of Aztec ruins. Food is good, and strong margaritas make for an enchanting experience. Ask for a table on the river.
5. Teppan Edo- like a refined Benihana. I love a Hibachi joint, the service here is always great and kids love it.
6. Via Napoli- a new and authentic Neopolitan pizza restaurant, this place is great. Perfect for lunch as you make your way around the World Showcase.
Coral Reef at The Living Seas- if your kiddos are really into sea life, book a table here to dine in a giant aquarium. The food and service here are really spotty so don't dine here unless your kids are crazy for an aquarium. Much better choices to be had in the World Showcase, especially the standouts listed above.
Disney's Hollywood Studios:
1. Sci-Fi Dine In Restaurant- I love this goofy place. You eat in cars. The food's just ok, but it's mostly burgers and shakes, so it's all good.
2. The Brown Derby Restaurant- if you're in for a better than average meal in a nice setting. Glam. Well as glam as a theme park can get. This one books up far in advance.
3. 50′s Prime Time Cafe- fun if you're into getting yelled at and teased, Ed Debevic's style. I'm ok with it. The setting is cute and quaint, like June Cleaver's kitchen.
4. Hollywood and Vine- Disney Jr. Character dining. Food is meh but who cares if your kiddos are really into Sofia and Jake.
Animal Kingdom:
Yak and Yeti- pot stickers, Pho, stir-fry- ok, I'll bite. This may be a little out there for the littles, but if they're adventurous give it a go.
Tusker House- Character dining with Donald and supposedly good food.
Standout Resort Dining: 
1. Artist Point at The Wilderness Lodge Resort- we loved this place, a stellar Northwest-centric wine list and excellent food.
Fun Fact- you can dine in the cozy lounge next door to Artists Point and order off the same menu. Not accepted on the Dining Plan but who's doing the Dining Plan- waste of $$$.
2. Jiko at Animal Kingdom Lodge- people dig the food here. I cannot speak to it as I haven't been but it is widely well-reviewed and goes out on a limb a bit farther than most Disney cuisine.
On the List for Next Time: most of this revolves around Character Dining. At such a young age, the chance to eat and spend time with the Characters was really the most magical of experiences for all of us.
The Pirate and Pals Fireworks Voyage- I was silently laughed at when I called in to reserve this a mere two months in advance. Because Disney "cast members" go above and beyond to be nice and accommodating, the gentleman helping me couldn't outright laugh at me, but I could hear him chuckling silently on his end of the line. You need major advance planning for this one. This cruise includes a booze free (constantly reminding myself- "it's all about the kiddos") pre-party with Smee and Captain Hook with games and treats, a cruise along the Seven Seas Lagoon to view the fireworks at the Magic Kingdom and a special greeting from Peter Pan and The Lost Boys upon disembarking.
A Pirate Adventure Cruise if my little boy is still into Pirates as much as he is now. This is a cruise during the daytime that takes you on a treasure hunt around the Disney lakes and lagoons. There are 4 different adventures to choose from.
Anna and Elsa- we will book ahead next time to reserve our FastPasses to properly meet these ladies.
Chez Mickey- now it was our hotel concierge's turn to silently laugh in my face upon my request for a lunch or dinner reservation at the Contemporary Hotel's Character Dining event at Chez Mickey sometime over our 4 day stay. "No chance in hell", he so wanted to say, held his tongue and politely let me know that that would not be possible. Fist clenched and waving in the air- next time.
Donald's Safari Breakfast at The Tusker House- no time to give love to the Duck this visit, so next time will have to do. A good start to a day at The Animal Kingdom.
Hoop-Dee-Doo Musical Review at Fort Wilderness- I'm always up for some hokey cowboy humor and BBQ. Sign me up.
Princess Storybook Dining at Akershus Banquet Hall- more dining with more Princesses, this time at Epcot in Norway where the Frozen ride will open next year. Win. Win.
Wonderland Tea Party- lunch at the Grand Floridian with Alice and the Mad Hatter. They keep this lunch small so that kids get some really nice time with the Characters, which is great.
Hollywood and Vine- a meal with the Disney Jr. characters- Sofia the First, Doc McStuffins and Jake the Pirate reign supreme here. My kids dig these guys, so we'll try for it next time.
What to Do at the Parks: ok, enough about food. Wait, did I really just write that? Can there ever be enough about food. The answer is a clear no. But let's talk about rides and stuff for a minute. Here's my input:
Magic Kingdom:
The * next to the ride notes a need for a FastPass, but you can wait times on your "My Disney Experience" app as well to see if you will really need a FastPass. From my experience, we found we needed one for the starred rides below.
*Enchanted Tales with Belle- do not miss this with small children. It's almost like a Mommy and Me type of class, it's so interactive. The kids all play "roles" in the tale that Belle tells, it's charming and lovely. Our favorite experience. (FastPass!)
*The Jungle Cruise- still the best ride at the Park in my book, and my daughter's favorite too. (FastPass!)
*The Pirates of the Carribbean- duh. (FastPass for sure)
*Peter Pan- still so magical and fantastic. (You definitely need a FastPass for this one.)
*The Many Adventures of Winnie the Pooh"- I wasn't nuts about this one but the kiddos loveed it.
*Seven Dwarfs Mine Train- our kids were a little small and scared to ride this, we'll do it next time. (You definitely need a FastPass for this one
*Anna and Elsa- get your FastPass 6 months in advance for a chance to meet these two. If you cannot get in to see them, they are in the afternoon parade and the Frozen show over at Hollywood Studios.
The Parades! Both the afternoon and the Electrical Parade are magical and really excellent. If you have any FastPasses left, use them for prime viewing. If not, there are usually viewing spots near the Castle.
Tomorrowland Speedway- I've always loved this and so did my kids. Big hit. We rode it early to avoid lines.
Prince Charming Regal Carousel- as magical as it always was. I could ride this thing over and over and so could they, do it early in the day before lines form.
The Haunted Mansion- my daughter was too scared to go on this, my son loved it. I've always been a fan.
Dumbo- so cute, tried and true. We rode this several times. There's a great little waiting area now too with a playroom for the kids.
Mad Tea Party- still really really fun if not nauseating. Ride this one early and save your FastPasses.
It's a Small World- does it get better. Not much. (no FastPass required- ride this early in the am)
Walt Disney World Railroad- take the train around the park. It's not really all that interesting, but my kids love trains so it's all fun.
The Enchanted Tiki Room- I'm a sucker for this show. I love a bunch of animatronic birds.
The Country Bear Jamboree- again, a sucker for animatronic banjo and washboard-playing bears, come on- who isn't.
PhilharMagic- a great 3D movie featuring some of the best tunes from your favorite Disney movies
Barnstormer- a roller coaster for the minis. My little girl loved this, my son was scared.
Casey Jr. Splash 'n Soak Station- bring a change of clothes so your littles can run around in this cute circus-themed soak station.
Swiss Family Treehouse- so fun, I've always loved this.
Tom Sawyer's Island Adventure- what's not to love- running around a pseudo-wildnerness. All good.

If You're Running Out of Time, skip these:
Buzz Lightyear's Space Ranger Spin- I wasn't crazy about this. None of us were to be honest. It's just alright. In fact here is a great depiction of the way it made my husband and son feel:
Under the Sea- Meh. You could skip it if time does not permit.
The Magic Carpets of Aladdin- just like Dumbo, we didn't do this. Not a must.
Astro Orbiter- fun but again, the same Dumbo-like experience, just a little faster. If your little one is really into rocket ships, this would move itself to the Must List.
Monsters Inc. Laugh Floor- an interactive show, fun if you have the time.
For the Adults or creatures of Disney World nostalgia:
The Carousel of Progress- I have always loved this hokey animatronic show
The Hall of Presidents- the kiddos would probably hate this, but I like it.
and all of the "thrill rides" that the kiddos were too little to ride:
Space Mountain, The Big Thunder Mountain Railroad, Splash Mountain
EPCOT:
There aren't a whole lot of rides for the kiddos here. There are a few great rides that they're not big enough for- like Test Track and Soaring but there are a few to visit with your little ones.
In Future World, don't miss:
Spaceship Earth
Turtle Talk with Crush
The Seas with Nemo and Friends
Living with the Land
Ellen's Energy Adventure
But mostly, it's just about walking around the World Showcase and seeing the different entertainment and/or movies in each Pavilion. My favorite movies:
France: "Impressions of France" landscapes of France set to Debussy and Saint-Saens. Pretty pictures and pretty music- a nice respite from the rest of your day.
Canada: "O Canada", narrated by Martin Short (reason enough to see it).
Animal Kingdom:
*Kilimanjaro Safari- get your FastPass for this one
*Kali River Rapids- also need a FastPass
DinoLand U.S.A.
Finding Nemo
The Wildlife Express Train to Rafiki's Planet Watch
Festival of the Lion King
The Tree of Life
Hollywood Studios:
This is a really cute park, back in my day it was called the Disney MGM Studios and I filmed an episode of Teen Win Lose or Draw here as a contestant. I lost. The studios also lost out on the chance to become real working studios as was originally the mission. Disney quickly realized, like Florida's Universal, that there was a lot more money in the making as a theme park than as a working studio, so that went South. Now it's just a theme park, but it's cute and fun.
For the kids here, it's mostly about the shows. There are some fun rides for adults like The Tower of Tower and The Aerosmith Rock 'n Roller Coaster. You can do a Child Swap and use a FastPass to avoid the line and ride these rides. This allows you to skip the line and leave the kiddos with your hubby or partner while you ride and then switch. You don't really need a FastPass for anything here except the Toy Story ride, so make use of them for the Adults.
For the kids:
*Toy Story Ride- you will need a FastPass
Frozen Sing-A-Long Celebration- cute stage show with clips from the movie to sing along with. We loved it. I was belting for Jesus. The Beauty and the Beast Live On Stage- this one needs some sprucing up but my kids still loved it.
Lights, Motor, Action- a really loud but very good car stunt show.
Disney Jr. Live on Stage- a great stage show packed with the Disney Jr. characters. For the Doc McStuffins set.
The Voyage of The Little Mermaid- the little ones love this show
The Indiana Jones Stunt Show- kiddos are less into this but it's still fun
SIDEBAR: Booze-loving Adults, please read on:
Drinks Around the World at EPCOT: I'm clearly deviating from the "with toddlers" part of the post title, but when in Rome… or in EPCOT, one really must partake in drinks around the world.
If your toddlers are in tow for this part of the adventure, you may be reduced to "Sips Around the World" in order to maintain any modicum of parenting skills. Share your drink, take a few sips and be on your way to the next fake country.
1. Mexico- La Cava del Tequila- for Tequila buffs, this place boasts over 70 bottles of the stuff. Sip from a shot, enjoy the Giant Pyramid and move along.
2. Norway- take a sip of the country's famous Aquavit. It's not for everyone, but that adds to the fun.
3. China- don't go traditional here, avoid the chilled plum wine and go straight for the mango-ginger margarita (or the green tea-plum wine slushy).
4. Germany- Beer Here. Duh. Don your German pilsner in an oversized souvenir mug to really seal the deal, again- when in Rome… or fake Bavaria…
5. Italy- this is the time to sit down and order up an darn near-authentic Neopolitan pie. After all of those sips, you will be really happy about chomping on a pizza and washing it down with a proper glass of Italian vino.
6. United States- this is the most boring of all the World Showcase choices. I'm not sure why, it's always been really boring. They need some animatronic cowboys or something in there to zhush it up. But in the meantime, grab yourself an American beer or some sort of whiskey concoction. That seems American enough, then press on to your next country.
7. Japan- Sake. 'nuff said.
8. Morrocco- not exactly known for its alcohol, this one's tough. At this point in your journey, you will likely want a fruity cocktail so pony up- there's plenty of that here.
9. France- Ice Cream Martinis (see above) or Champers if you're feeling sophisticated and it's hard not to, under the shadow of a fake Eiffel Tower.
10. UK- a hearty and proper pour of stout of English Ale.
11. Canada- a glass (or sip) of La Fin du Monde.
Now mosey back to France to dine at Monsieur Paul, lap up the bubbly and take in the fireworks by the window. Good luck with those toddlers. They will likely be standing on their heads by this point.
Cin Cin my good toddler theme park-toting people and the best of luck to you. Mostly, just enjoy. Seeing the Disney craziness through a toddler's eyes is magic.
Related posts: