02. 12. 2015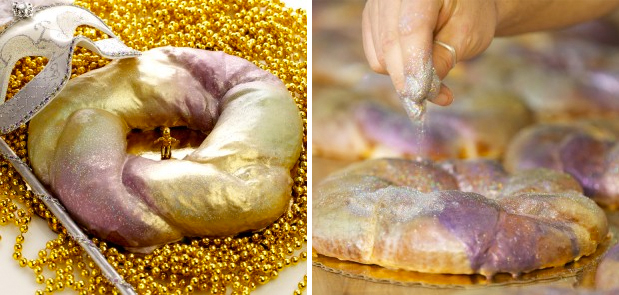 Sucré's glittery gold King Cakes
Or rather, let US eat King Cake. Until last weekend, I had never had the pleasure of sampling a proper piece of Mardi Gras King Cake. Boy was I missing out. A few friends and I took to the Virginia countryside for a little retreating over the weekend, and my pal Lindsay Boudreaux brought along this perfect little creation from the New Orleans patisserie, Sucré. She assured us that Sucre's King Cake is the most delicious thing going and as a New Orleans native, she would know. To hear her compare the sweet subtleties that define a New Orleans King Cake like a true Nola-gal, Lindsay says that Sucré's cake is "not as dry as Haydel's, and not as sticky sweet as Randazzo's." Cream cheese can be a major component of the Mardi Gras cake and for Lindsay, Sucré's reigns supreme as, "the cream cheese is more subtle than any other filled cake I've had and I love the simplicity of only one available flavor."
There you have it, straight from the mouth of a Nola babe. Lindsay's also a designer and owner of the DC area design studio, Shotgun Double, so of course this King Cake is chic and stylish to boot, bedazzled in effervescent gold glitter. It really is so pretty, you almost don't want to eat it, but then… you do. Basically a big, round, flat, refined cinnamon roll- a slice or two of Sucré's King Cake is pure heaven with your morning coffee, and then again for dessert.
The King Cake came about as an offering in celebration of the Kings- those Three Kings who came to Bethlehem bearing gifts on "Epiphany" or "King's Day". Mardi Gras borrows heavily from European tradition, so this celebration of the Kings stuck with Louisiana natives around 1870 or so when the first official day of Mardi Gras was deemed "King's Day". Seems reason enough to bake a delicious, festive cake and hide a tiny plastic baby in it, right? Tradition states that whomever gets the baby in their bite, buys the next King Cake, so… Rashmi, you're up!
Sucré is new school in the old school world of Nola bakeries, but the kids there are definitely doing something right. While most of the mainstay New Orleans bakeries charge a pretty penny (upwards of $60) for their King Cakes, you can score one of Sucre's for just $20 plus shipping. And let me tell you- one bite of this pretty little thing and you will be ordering yourself up one of these beauties for years to come. I know I just joined the Sucre tribe- our little slice of heaven should be arriving just in time for Fat Tuesday.
The Sucre King Cake is only available until February 16th, so order up.
Sucre King Cake, $20 (plus shipping) and freshly baked to order.

And for the true King Cake afficionados: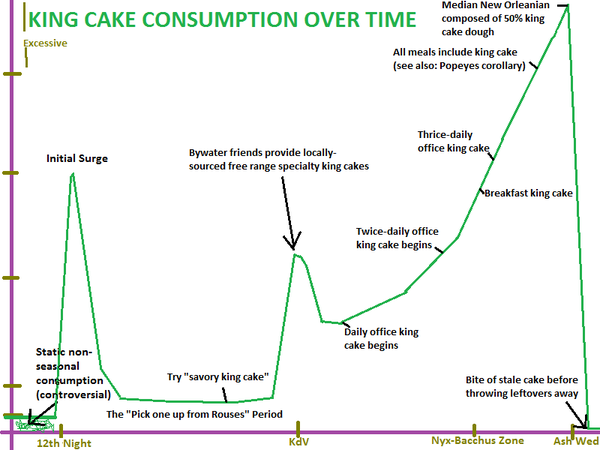 {Images: King Cakes- Sucré, Lindsay Boudreaux headshot- Rashmi Pappu, graph}
Related posts: