02. 25. 2014
Here it is folks: a good value, single varietal Spanish red. Tempranillo is famous for being the home grape of the Rioja and Ribero del Duero regions but you won't find much in the way of a really good deal from its pricey real estate. Sure, you can find some value wines but nothing worth its weight in the under $10 category. You have to reach out to the developing wine regions of Spain for a single varietal 100% Tempranillo that will really please your palate.
This one comes from the Castilla y Leon region. It's good. Not great. A bit rough around the edges for me to really get excited about, I did like it and thought it made an excellent partner to our spicy buffalo wings. That's right, buffalo wings. We cannot get enough these days- it's like Hooters up in here, minus the shiny suntan-colored-tights-wearing waitresses. Then again that's kind of the whole point of Hooters. Anyway I digress, Tempranillo is a very food-friendly grape and I think  matches well with foods that have a bit of a kick to them. If you're not in a spicy mood, it's a great grape with a burger too.
If you can't find this label in your neck of the woods and are looking for something similar, ask your wine merchant for a well made Tempranillo from an up and coming Spanish region- maybe La Mancha or Toro. They'll point you in the right direction.
Ok, here's what I got: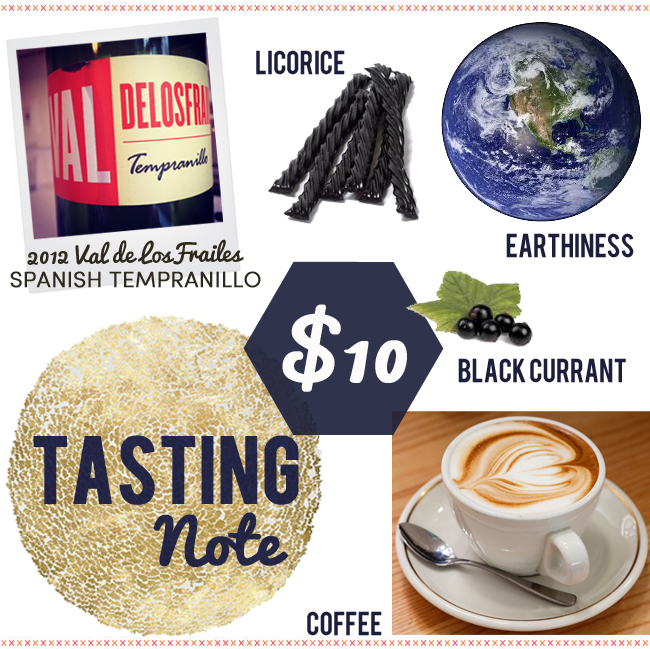 Flavorful and well-balanced but not fussy- in fact a bit too rustic to jump from good to great- it's a good value and perfect for a bbq or burger night.
Val de los Frailes '12 Tempranillo, $10
Coffee Image: The Selby
Related posts: