09. 25. 2013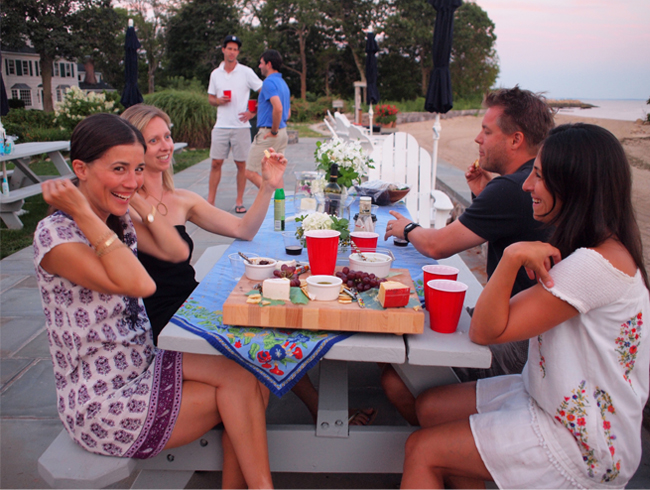 When one of my best girls sent me photos of her recent birthday dinner, I knew I had to share. This is not your ordinary birthday dinner folks. Nope. But it can be- and that's why I wanted to post.
My girl Kristen's friends asked her what she wanted for her birthday and she told them: "An outdoor dinner- friends, husbands, babysitters, candles, potluck style". So these girls joined forces to create a spectacular evening for Kristen on their neighborhood beach in Rowayton, Connecticut.
Now let's talk about Rowayton aka Pleasantville, as I like to call it. This place is crazy. I went to visit Kristen about a year after she'd moved to said Lovely Town, U.S.A. and could not believe its charm. In one afternoon, not one, not two, but three neighbors casually stopped by her front porch to say hi and it doesn't stop there- they were actually hand delivering freshly baked goods. Yes, it's true. Places like this do exist. A sleepy little waterfront town in Connecticut, most have never heard of NYC commuter-friendly Rowayton, it is pleasant indeed. I love the local seafood shack, pizzeria and ice cream shops- they're right out of a Rockwell painting. The town is dotted with lovely homes and shorelines, one of the loveliest of those lines pictured here at their beachy-chic gathering.
So, let's talk about this dinner party. With the babies in bed, these five couples pulled together a memorable and beautiful night. I wanted to share how easy it is to throw together a gorgeous outdoor evening. Take advantage of the few warm evenings we have left this year and plan a picnic-chic dinner party with a little help from your friends. You don't need a beach- although it doesn't hurt- just a picnic table will do.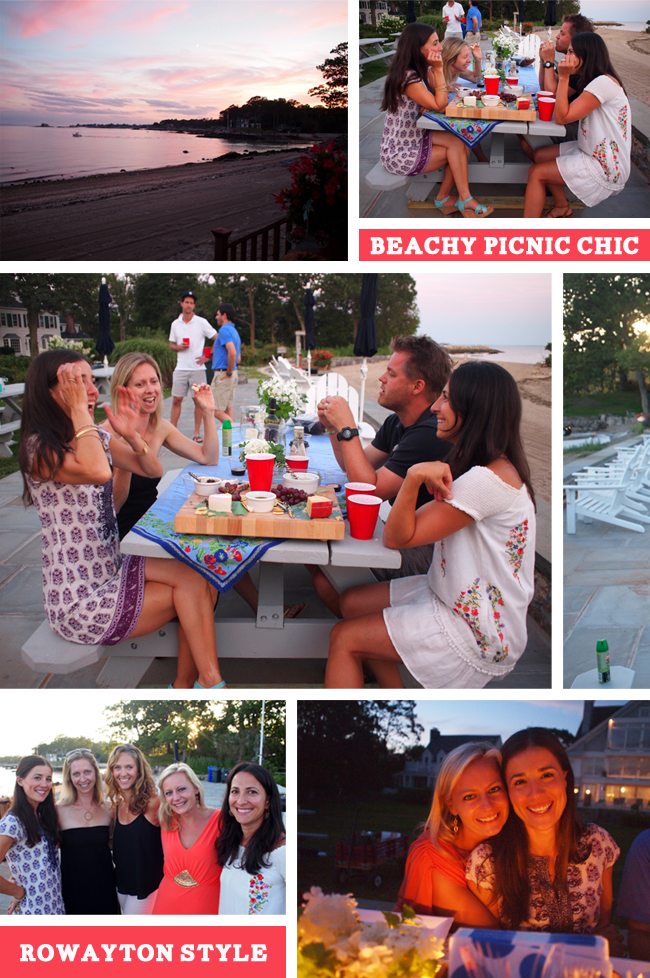 These guys collaborated to create a delicious menu. Each couple brought either a cocktail, side or dessert while Kristen and her hubby Kurt brought their infamous perfectly grilled salmon as the main course.
The table was effortlessly styled with lovely blue linens, silverware, fresh flowers, and hurricane vases for lots of ambient light (lighting is everything as we all know). They left the fragile glassware at home and kept it simple opting for the trusty plastic cup. I absolutely love the way it looks. Bravo ladies and gents.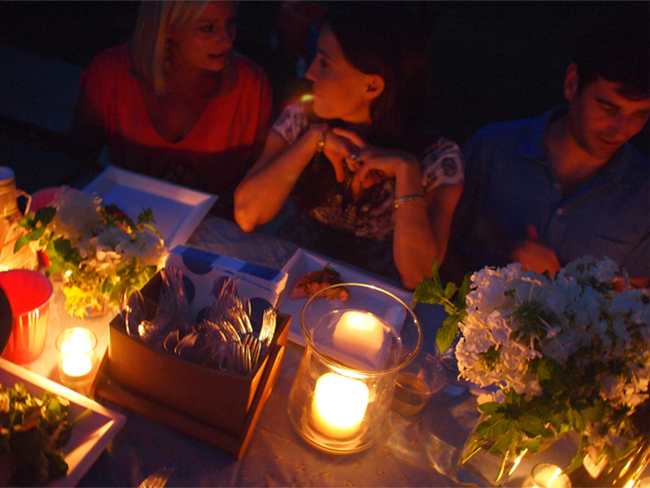 The Menu:
Watermelon Cocktails
Mixed Cheeses
Farro Salad
Perfectly Grilled Salmon
Chocolate Ganache Cupcakes
Yum, right! And simple. And potluck- even better.
Thanks gals for sharing.
{Images: Kristen Schaefer Geisler}
Related posts: