01. 28. 2013
My friends and I recently got into a discussion about our photos being held hostage on our iPhones, to print or not to print and in general, just what to do with all of them. One friend keeps a family blog where she uploads favorite moments for posterity, others print and make photo books and some (me) just keep their photos forever locked away on their phones and in iPhoto. Here a couple of unique ideas.
Some of you may have seen A Beautiful Mess' DIY Instax Wallpaper post last week. The image of the gorgeous wallpaper has been pinned like crazy and is seriously inspired. While I love it, I don't know that I'll get around to making it anytime soon- although it is filed away for a future project. I love the size of the Instax wide photos too and that the photos actually come from an instant camera. The idea is pretty awesome. Find the Fujifilm and camera here, it's already on my Amazon wish list.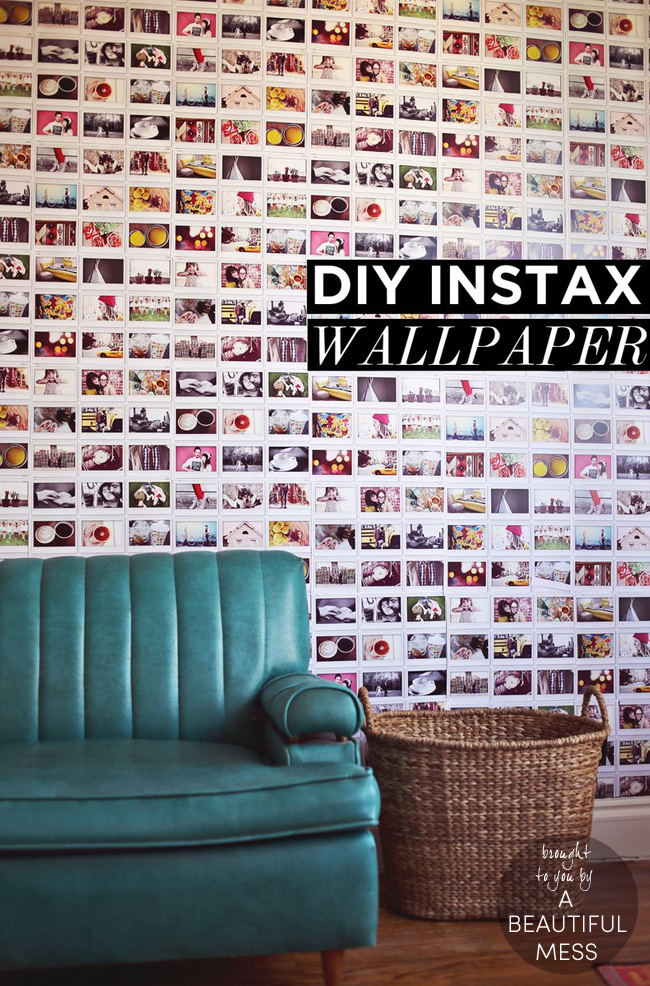 In the meantime, my friend Amy sent me a photo of her little Instawall in her home office. This is a very simple DIY idea for those of you wanting the look without the time to put into printing wallpaper. I'm stealing this idea pronto. So simple and cute. Amy just used double stick tape to attach to her wall in a neat grid. She lives in Hong Kong so the humidity has made the edges curl up a bit which I think makes it look even cooler. Print out your Instagrams on your home printer or via Prinstagram in either 2.5 x 2.5 mini squares or 4 x 4 squares. Such a cute and stylish way to personalize your space. Thanks Am!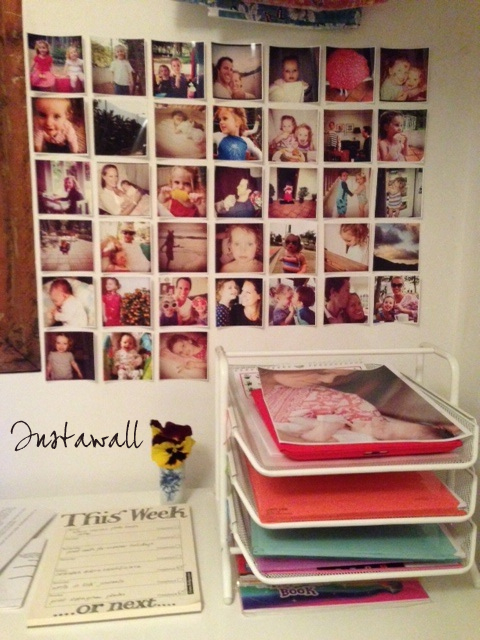 Groovebook is another easy (and cheap) printing option. For $2.99 you can upload up to 100 photos per month and Groovebook will send you your photo book with perforated pages for easy tearing. There seems to be no catch except that you need to remember to utilize it every month as you will be charged the $2.99. Email reminders are sent out as your print date approaches. If you're into the printed photo, there is now no excuse not to print and make books with something this easy. It may not be the most amazing quality but for convenience and posterity, it is a good option.
And for those, not looking to print but keep it digital, Amy found this great resource for creating a photo calendar/journal of your littles or family- Tinybeans. An easy way to keep a photo journal and record of your littles' milestones or whatever you wish. Upload photos daily or however often you like. Very cool, as a longtime city dweller with no storage space for boxes of photos and photo books, this is totally my speed.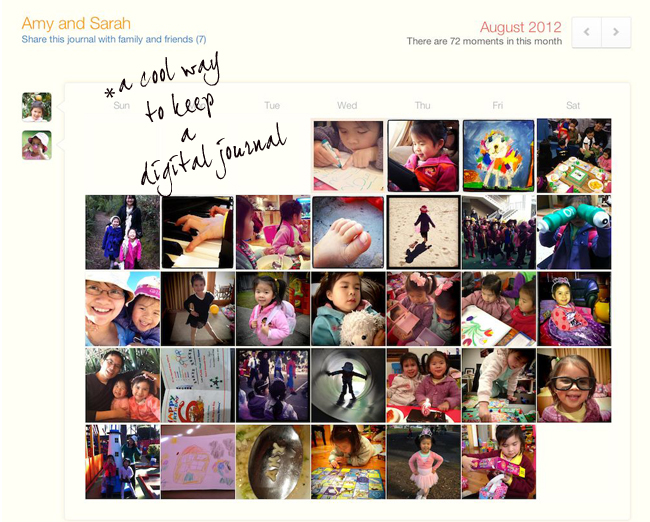 Flayvr looks to be an interesting organizational app for your photos and videos as well. It automatically organizes media by event and date. Fortune Magazine point to Flayvr as being one of seven apps to watch in 2013. Read the CNN money article here. It's free as well, I just downloaded it and will try it out. It looks pretty cool. To quote one of my favorite heroines, Annie Warbucks, "I think I'm gonna like it here."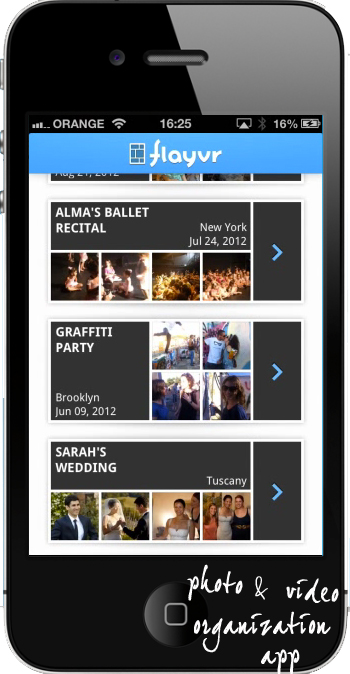 {Image Credit: DIY Instax Wallpaper photo by A Beautiful Mess, Instawall photo by Amy Har-Even}
Related posts: