02. 20. 2014
Just a quick roundup of things that are making me happy nowadays.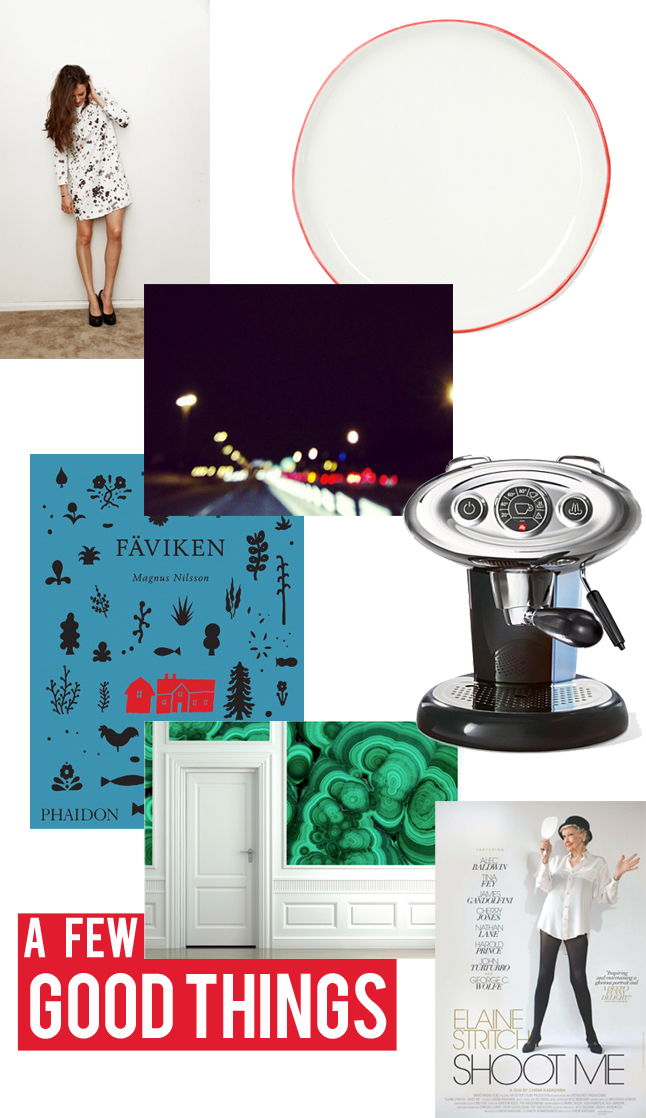 I'm wearing this spotted shift to an arts gala next month. I can't resist a good dalmatian print.
These plates make me smile. I just bought a set for Miss V. (aka: our new house).
Washington's Beltway through the lens of Rashmi Pappu's camera. Rashmi is a talented local photographer here in Old Town Alexandria. I love following her Instaworld.
If I can't eat there (anytime soon anyway), I might as well read about it. Faviken is the first cook book penned by critically lauded 28 year-old Swedish chef Magnus Nilsson. His restaurant, also named Faviken, is situated on a 20,000 acre farm in the Scandinavian countryside. Talk about a destination meal- this is the stuff of dreams.
This little baby really puts a smile on my face. I have shopped high and low for an affordable espresso machine that is easy to use, makes delicious coffee and is above all, great looking. I'm a big illy fan, so this one takes the cake. Sold. C thinks it looks like a Panda Bear, I think it looks like it knows it's awesome.
And the fabulous Miss Stritch- she never disappoints. If you didn't catch this appearance on Kathie Lee & Hoda… you're welcome. Not only does she drop the F bomb, but she's got her feet in Kathie Lee's lap and she's wearing a floor length fur. What is happening! DI-to-the-VA. Love her. I can't wait to see this new documentary. And if you haven't seen Elaine Stritch: At Liberty, do yourself a favor and see it pronto, her stories are unbelievable.
Related posts: