10. 08. 2013
'cause a pumpkin patch party don't stop ya'll…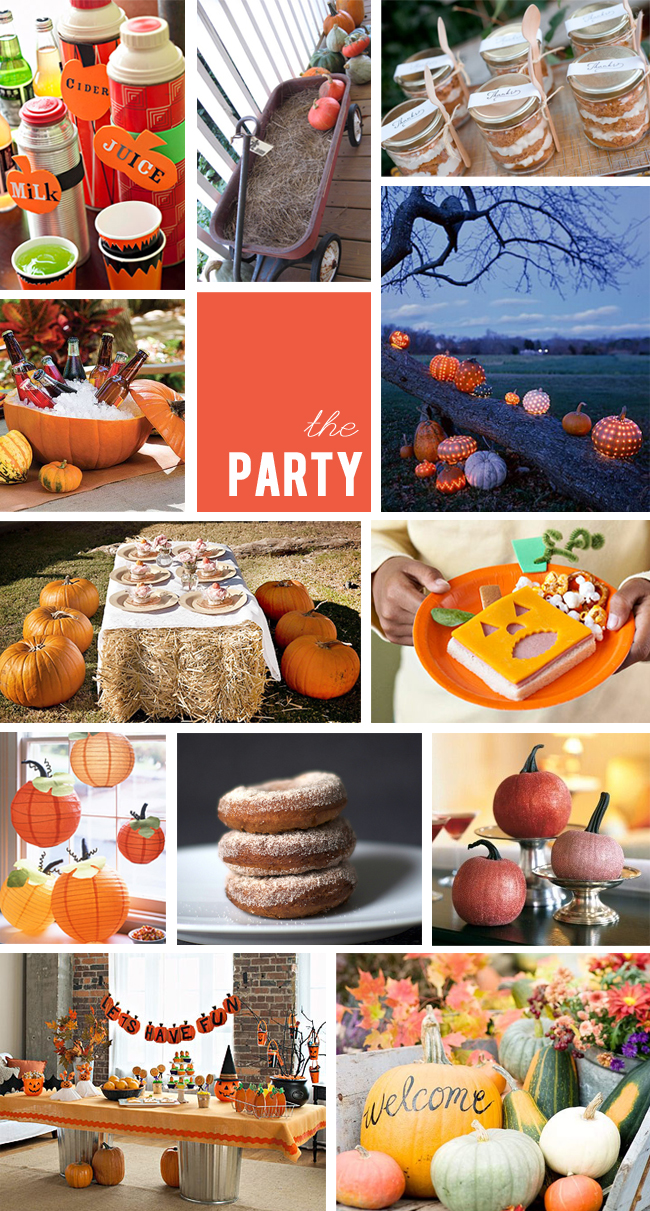 My friend Lora's daughter Lola is turning one this month and she is throwing her a super cute Pumpkin Patch Birthday Party. I love the idea, I only wished I lived closer so that I could see it in person. She asked me to put together some ideas for Lola's big day, so here are a few things that caught my eye. There are some fun ideas here for an adult autumn-themed party as well.
DECORATE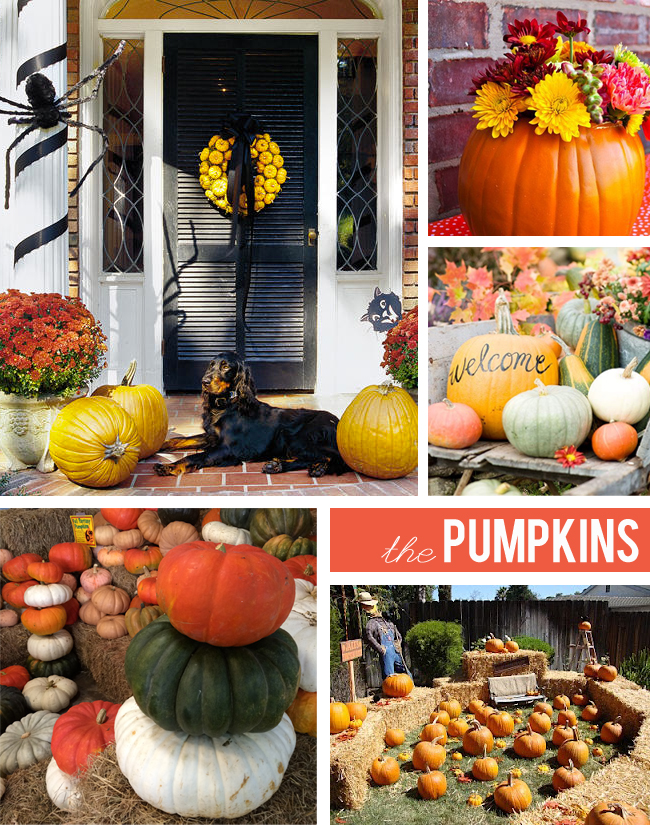 Stack them, group them, write on them, fashion them into flowerpots, and make a pretty wreath out of the minis- there are so many fun ways to utilize your main party prop.
A Mini Pumpkin Wreath makes for a beautiful front door.
A pumpkin as a flowerpot- sweet. Grab some sunflowers or wild flowers from your local farmer's market and trim the stems so that they just peep out.
I never think to write on a pumpkin, but I love the way this looks. You could welcome your party guests this way, paint your little one's name, Happy Birthday, or their age on a pretty pumpkin. I love cursive on a pumpkin.
Stock up on lost of pretty pumpkins (I am partial to these Cinderella pumpkins they always have at Trader Joe's). Grouped together and stacked on top of each other, they make for instant decor- very bibbidi-bobbidi-boo.
Get yourself some hay bales, arrange them in a semi-circle, throw in some pumpkins and call it a pumpkin patch complete with comfy straw seating.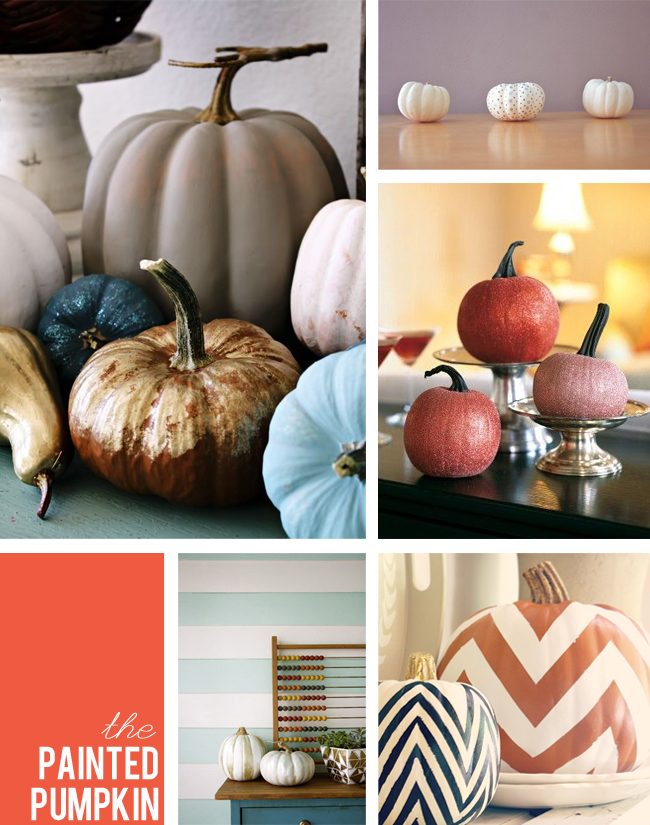 Bust out the paint and bump up the glam.
Chalk Painted Pumpkins: For a matte and sophisticated look, these pumpkins are gourd-geous. (sorry, couldn't resist.)
Polka Dot Pumpkins: who doesn't love a polka dot.
Glitter Party Pumpkins: these are perfection.
Metallic Painted Pumpkins: I like the neutral tone of these metallic beauties, they would look great on a mantle.
Graphic Painted Pumpkins: chevrons are fun but I love plain old stripes, thin stripes, bold stripes any stripe is fun.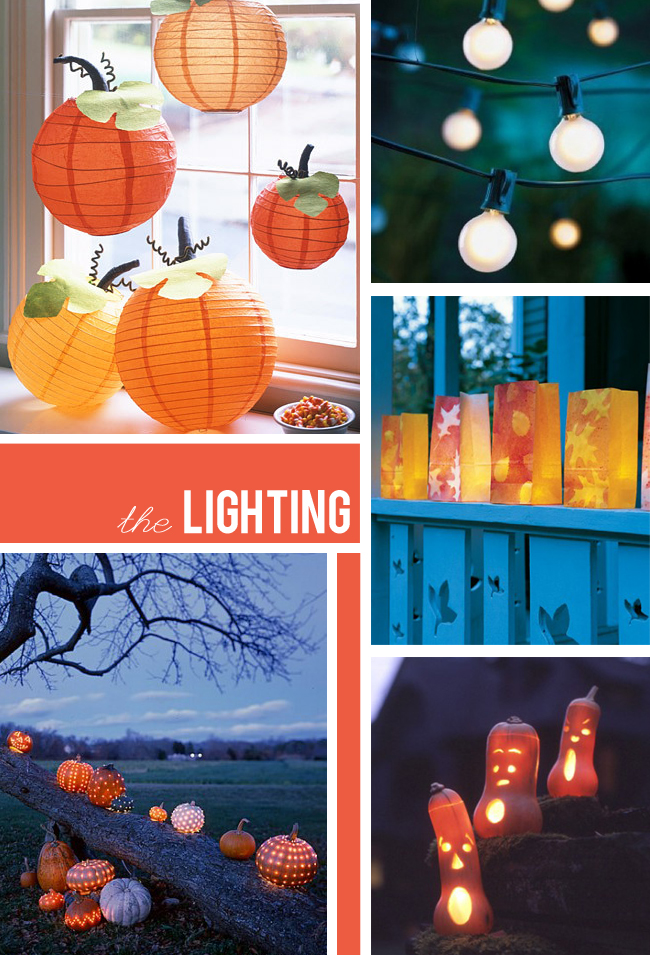 Lighting really is everything, isn't it.
Martha Stewart shows us how to DIY an ordinary paper lantern into a pumpkin lanterns or you could just buy these pre-made Pumpkin Paper Lanterns and save yourself the effort. Affordable and cute, these lanterns would be so pretty strung indoors or outdoors.
Fairy lights: a must if you're outdoors and your party goes through the early evening. These are available everywhere, I love their round, globe shape. You can get them at ebay, Pottery Barn, Amazon- anywhere.
Autumn Luminarias: I love a luminaria (I have a thing for Santa Fe so of course I do). What a great idea for fall.
Celestial Pumpkins: Just a few dots and zigzags will really give your pumpkins a sophisticated luminescence.
Squash Jack-O-Lanterns: these oblong gourds are just asking to be carved into these cute ghostly jack-o-lanterns. I love the way they look.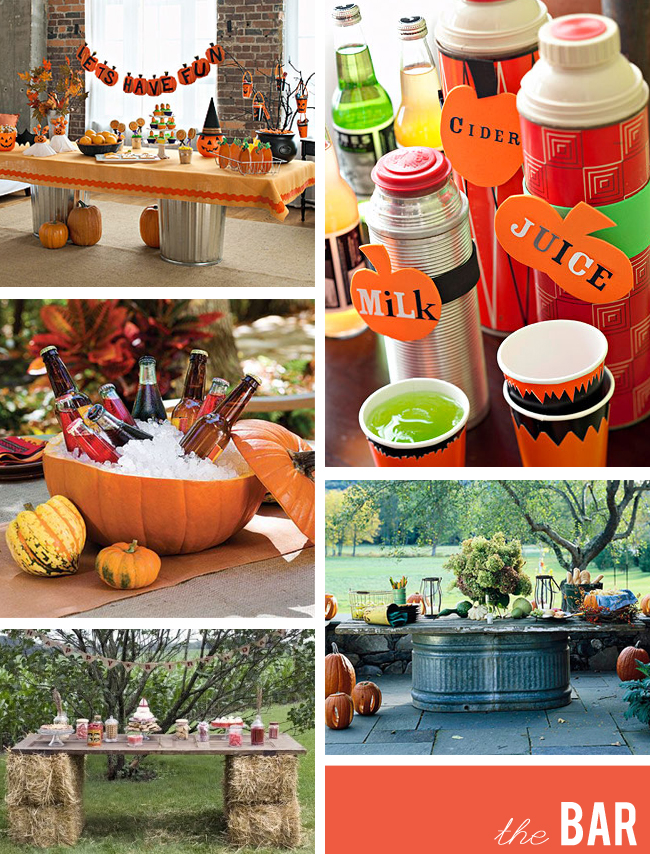 Ok, I know it's a children's birthday party, but this is my blog afterall. I know many parents who choose not to cater to the adults at their children's parties and really want it to be about the kids. I think that's awesome and wish I were that noble. In the meantime, pour me a drink.
A few ideas for a quick bar/food table: it's all about tin, reclaimed wood and hay. One or all of those elements is pretty great.
Tin is a great look for a rustic pumpkin patch party. I love the tin garbage can table. Using the trash cans for the base is genius. A festive tablecloth could mask an unsightly piece of plywood that would do the job just fine. Cute. And that tin trough with the reclaimed wood piece on top is beautiful if you could find a cool piece of wood or an old door. The hay bales and wood top are great and easy too.
The thermoses adorned with nifty tags are a great reminder that this IS a kid's party and that is what matters most.
A Pumpkin Party Cooler- come on, I love it.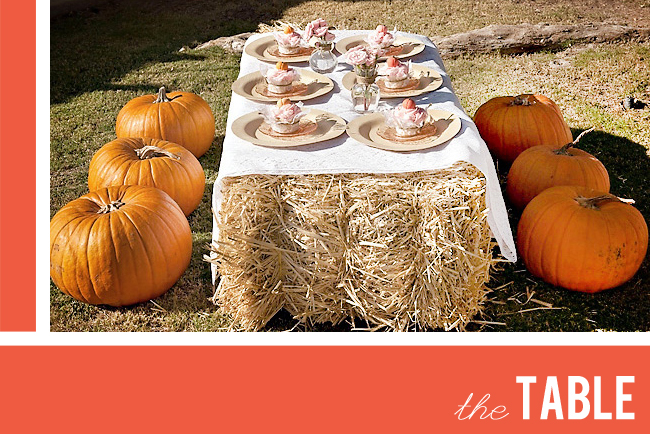 You could go a little overboard with all the hay, but if you're not using it elsewhere and want a seated table, this is pretty cute. The simple white tablecloth kind of makes it. If there kiddos are tiny, I probably wouldn't do a table but for older kids, I like this idea.
EAT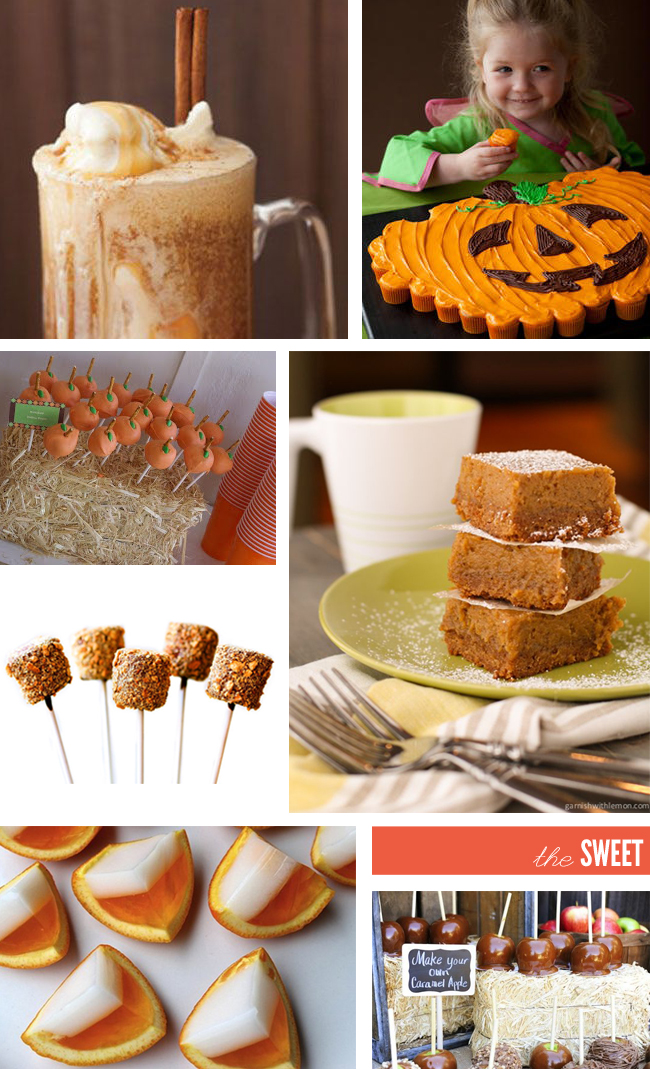 A few yummies for the table:
Apple Cider Floats: great idea, especially if it's not too hot.
Pumpkin Pull Apart Cake: interactive and it's got cupcakes? Win win.
Pumpkin Cake Pops: jump on the cake pop craze, for the big and the small.
Pumpkin Butter Quick Bread Bars: like a blondie and some pumpkin bread had a baby- mmmm.
S'mores Pops: let's face it, s'mores are awesome and cake pops are awesome, this combination is pretty fun.
Candy Corn Coconut Orange Jello Bites: you can also add some alcohol to these and put a few on the bar but that may be asking for trouble. The recipe here calls for alcohol, you can easily omit it.
Salted Caramel Apples: because come on- what's a pumpkin patch party without some candy apples?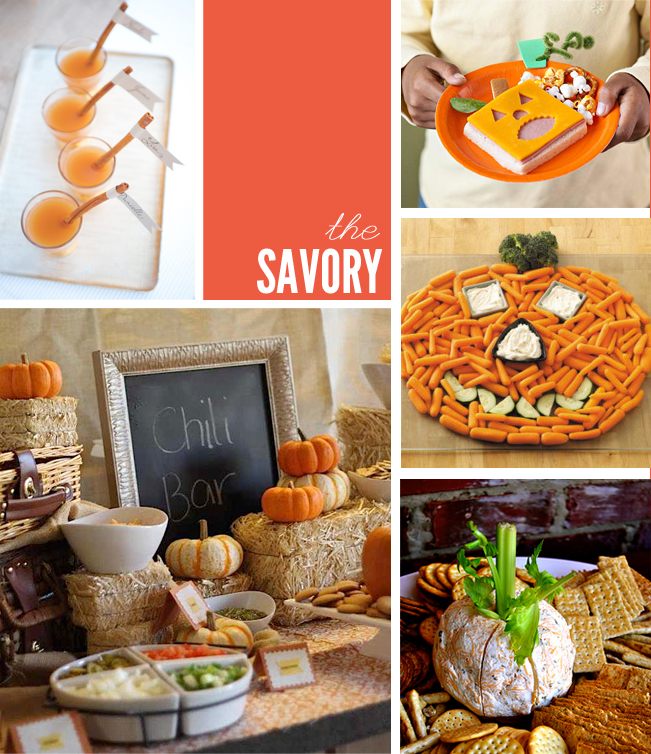 We're keeping it simple because this is a kid's party not a 5 course meal. Easy to eat soup, stew, cheese and crackers, crudite and cheese sandwiches sound like a winning combo to me.
A Shot of Carrot Soup: I like the cinnamon stick and flag detail.
Jack-o-lantern Cheese Sandwiches: I want one. Use some nice thickly sliced cheddar to make your life a little easier.
Turkey Chili Bar: everyone loves a chili bar.
Arrange your crudite in the shape of a pumpkin, it will get messed up pretty quickly but it was cute while it lasted.
Look at that cheeseball. I dig it. Stick a stalk of celery on top and call it a pumpkin.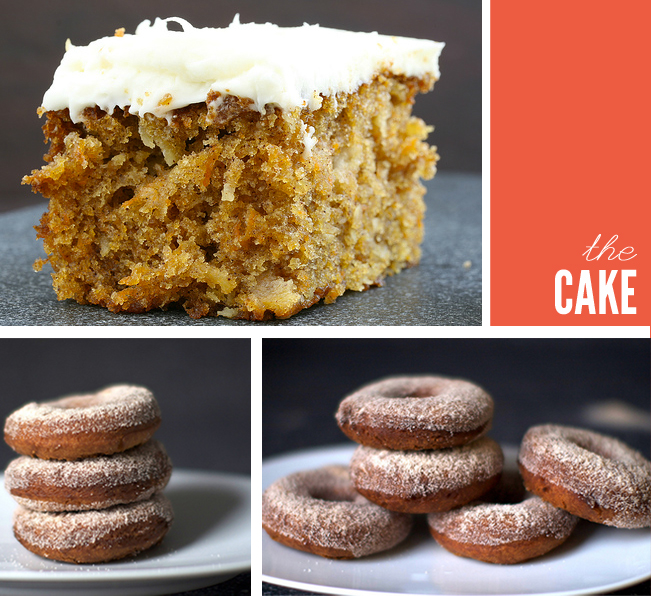 Sugar Free Carrot Cake: Call me what you will (no fun, a killjoy) but I just couldn't stomach feeding my bebes a super sugary cake on their first birthday. Sure they've tried a spoonful of ice cream here and there, but they're still not on the sugar train- I'm hoping to keep them off of it for as long as I can. I baked the bebes this carrot cake (with finely chopped raisins) with this cream cheese frosting. All sugar free, no Stevia- only honey which is a great substitute provided they are not allergic.
Apple Cider Donut Cake: For the adults, not that you don't have enough sweets on the table, but again what good is a pumpkin patch party without an apple cider donut? I would stack your donuts in a tower-shaped cake so that guests can pick their donut of choice. It's cakey, it's fall-like, it's kind of the perfect cake.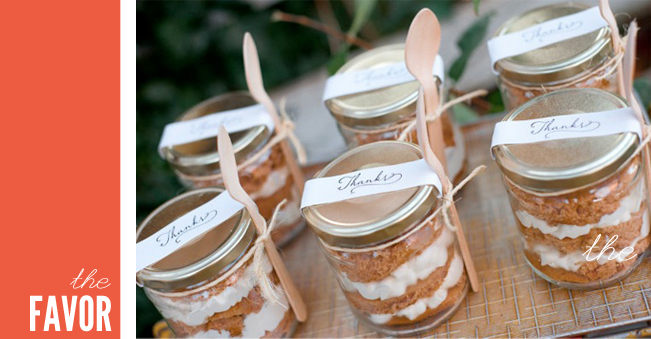 Pumpkin Pie in a Jar- this is genius. If this is your child's 1st birthday party, let's face it, his or her friends don't need a favor, but their parents do. I love the detail of the wooden spoon as well.
DRINK:
In addition to the juice, milk and water for the kids, serve a little mulled apple cider, beer and wine.
The Beer:
Pumpkin Ale, of course. If you read this blog, you know I am on a pumpkin ale kick. Offer some of the usual suspects too. I would definitely serve up the Cinnamon Pumpkinhead that I featured yesterday. Simple, easy and festive. This is a no-bartender-required drink. Just rim the glasses with sugar, fill a few with pumpkin ale and leave the rest in your ice bucket. The guests will know what to do and you won't have to fret making drinks.
The Vino:
Keep it simple. There are probably lots of sweet treats on the table so you don't want anything too tannic or super dry. Your best choice is a sparkling- I always say, the bubbly is your best friend, it will go with everything. I would serve up a good and inexpensive Cava or Cremant. Have a few bottles of white and red on hand too, just in case your guest don't like bubbles (who in the world that might be, I'm not sure but you never know). I would go with a For vino, I would stock my bar with a pretty floral white like a Southern French blend, a Vinho Verde from Portugal would be perfect too. For reds, I would keep it light and not too dry. A Beaujolais Cru or Red Burgundy would be nice. Head to your favorite wine shop and ask for good representations of the following wines:
Spanish Cava
Vinho Verde
Languedoc White Blend
Beaujolais Cru
PLAY: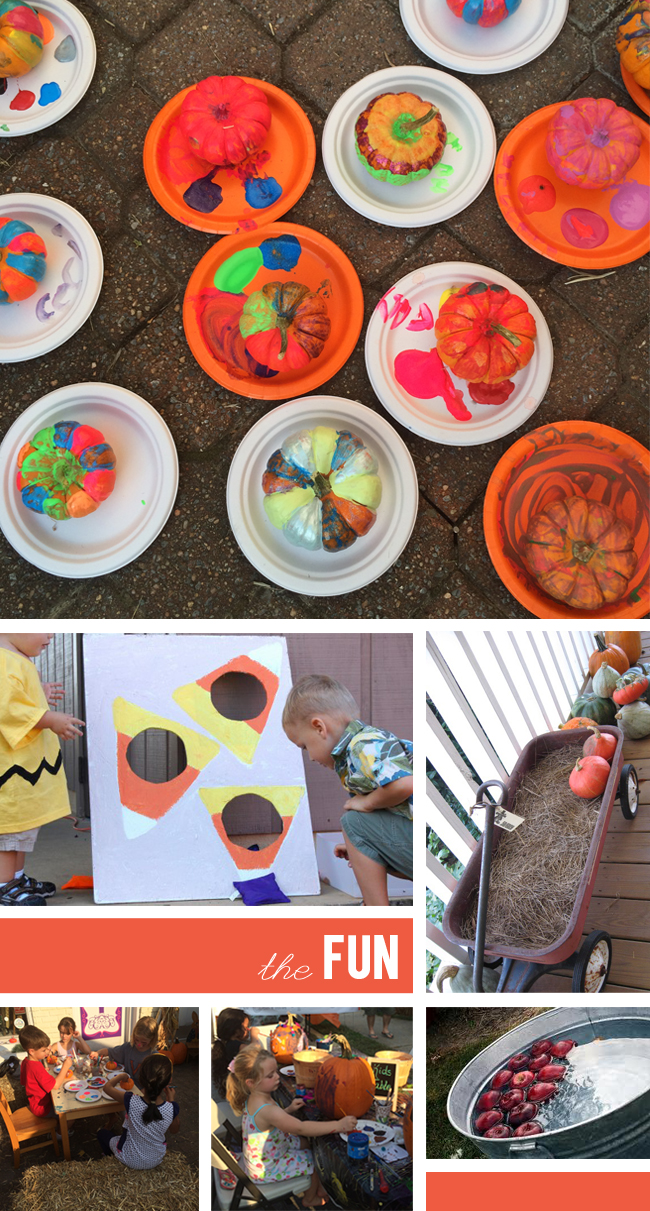 Paint Your Pumpkins: more fun and less hazardous than carving, let the kiddos get creative (and messy), I love the fluorescent paint.
Candy Corn Toss: so cute and fun. Just pick up a piece of plywood, paint and cutout. Small beanbags for the toss can be found here.
Red Wagon Hay Rides: this is a must. If you don't have a radio flyer wagon, pick one up for "hay rides" around your backyard (if you have one, if not you could try pulling the little ones through your living room- I'm sure it's been done). Throw a couple of small pumpkins and some hay in there and call it a day. Instant entertainment.
Bobbing for Apples: it just never gets old, does it and it's always funny.
Pin the Patch on the Scarecrow: this one comes straight from my brain. Stuff a scarecrow and hitch him to your fence (again, if you have a yard- if not, your fireplace? your bolted-into-the-wall bookshelf?). Fashion a little fabric patch for his pocket and play.
And that's all she wrote (and found). Let me know what you think? I'd love to hear of any other ideas you might have for this party. Happy Birthday Lola!
{Images and Credits: Pumpkin Butter Quick Bread Bars: Garnish with Lemon, Pumpkin Cake Pops: The Squeaky Grocery Cart, Pumpkin Pull Apart Cake: Kate Sears, Peanut Butter Pumpkins: Paper Jewels, Candy Corn toss and Pumpkin Place Setting: Frog Prince Paperie, Bar Setup: bjdhausdesign, Pumpkin and Roses Party: hostess with the mostess blog, DIY lanterns, Pumpkin Party Cooler, Glitter Pumpkins, Celestial Pumpkins, Autumn Luminarias, Squash Jack-O-Lanterns: MarthaStewart.com, Wagon: SouthernHospitality blog, tin bar and bucket: Better Homes and Gardens, Pumpkin Ice Bucket: Southern Living, Tin trash can table: Better Homes and Gardens, Thermoses- Better Homes and Gardens, Pumpkin Cheese Sandwich: Better Homes and Gardens, Pumpkin Cheeseball and Flowerpot Pumpkin: Kara's Party Ideas & Michelle Levesque, Pumpkin Pie in a Jar and Shot Glass Soup: Melody Appel at Innove Events, Haystack Table: Frost Me Blog, S'Mores Pops: Ali Ebright, Chalk Painted Pumpkins: perfectly imperfect blog, Pumpkin Veggie: homemadecrap, Haystack Seating: babybalice, Apple Cider Float: Rachel Ray magazine, Metallic Pumpkins: The Handmade Home, Candy Corn Jello Shots: That's So Michelle, Apple Cider Donuts: Smitten Kitchen}
Related posts: