12. 15. 2012

Ahh, the West, can't wait to get out there. We leave this week for 3 weeks of holiday tidings- seriously the most wonderful time of the year- thank you Andy Williams, R.I.P. And it's my Minis' 1st Christmas- so special.
We start in Texas with a side trip to Austin to see my brother and sister-in-law, with a stop at Vino Vino's Oodles of Bubbles Champagne Tasting on Saturday. I haven't been yet but have heard great things. Bring on the bubbly.
Then we're off to Santa Fe to spend time with more family and soak in the Southwest scenery. Love that town at Christmas. I am looking forward to hitting Harry's Roadhouse for some blue corn turkey enchiladas and maybe do some tequila tasting. Maybe we'll take the twins on a walk down farolito-lit Canyon Road and definitely stroll the Plaza. Jackalope is a must for last minute stocking stuffers. I will definitely do a getaway post, post trip. I've been going to Santa Fe for years with my family and hit the jackpot when I married a man whose sister lives there & added bonus: I have an aunt and uncle that live there too. Great reasons to go back, and as often as possible.
Then back to the ranch where we'll just relax, cook, eat, drink, bake, watch Christmas movies, play charades, watch bad movies (one of my all-time favorite things to do with my brother who is a master at Mystery Science Theater-speak) and REPEAT.  Life doesn't get much better than that.
Lonesome Dove- Tim Love's highly rated Fort Worth restaurant. I have not yet been and looking forward to a meal there this year.
William-Sonoma's Pomegranate Champagne Cocktail recipe. I made this last week for a cocktail party without the Grand Marnier (because I didn't have any) and it was a big success- my simplified version below- I look forward to making it again, this time with the Grand Marnier. They key to this is, just a few pomegranate seeds, they are sweeter than you think.
Coronaritas- what a great invention! The Exhausted Mom's recipe here.
Ina Garten's Fleur de Sel Caramels. I've never made caramels and am salty-sweet crazy, so I look forward to attempting the Contessa's recipe.
The Ref. If you have not seen this movie- netflix it, order it, download it- whatever, IMMEDIATELY. Hands down my favorite Christmas movie EVER. Denis Leary, Kevin Spacey, Judy Davis and Christine Baranski are all brilliant. Seriously- what a crazy cast. The mother from Mary Poppins, Glynis Johns, even makes an evil appearance. So many great one-liners that I find myself repeating year round- "Slipper socks… Medium."
And of course, Christmas Vacation. The holidays just wouldn't be complete without the Griswalds. "Squirrel!!!!".
My mom wants to tackle an easy seafood paella recipe. She's got a bottle of Domaine de Cabasse Rose de Marie Antoinette that should go great with it. Mas de Daumas Gassac Rose Frizant would be killer with seafood paella too.
I'll attempt to read 2 books, Where'd You Go, Bernadette and David Nasaw's new Joe Kennedy biography. This is slightly ambitious as I just finished Gone Girl after 4 months of reading basically, 1/2 a page every night. That's about all I can stay awake for these days with the twins still not sleeping through the night, so we'll see how this plan shakes out.
Here's my easy peasy Pomegranate Champagne Cocktail recipe: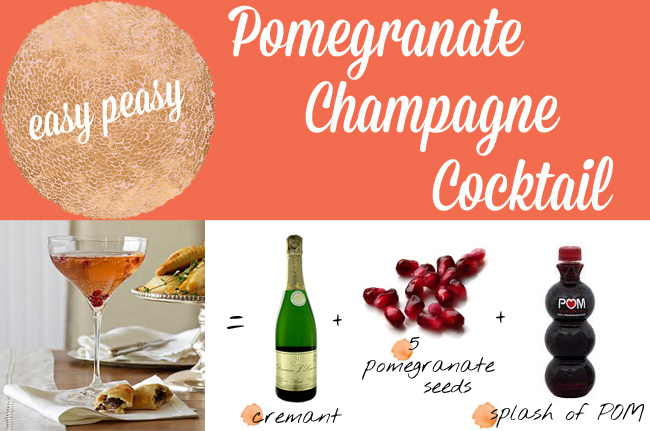 Totally foolproof, this couldn't be easier:
1. Fill your glass almost 3/4 full with Cremant (I use this as opposed to a champagne as it is very tasty and a lot less expensive)
2. Drop in 5 pomegranate seeds (no more as they infuse more sweetness than you would think)
3. Add a tiny splash of POM juice (because that stuff is potent)
And, Voila- a foolproof Christmas Cocktail (or Chanukah or Kwanzaa or whatever- everyone will like this little diddy)
CIN CIN!
{Image Credits: Farolito-lit by Diane Brumberg, Fleur de Sel Caramels by Gimme Some Oven)
Related posts: