About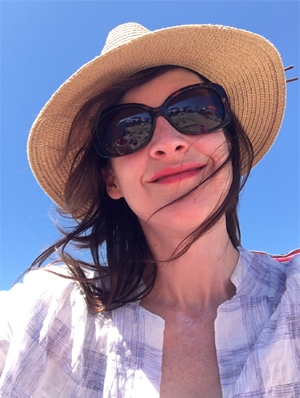 The official Clark Griswald of my family, I am constantly on a quest for everything from the world's largest ball of twine (in Cawker City, KS, by the way) to an up and coming wine region (Traverse City is my current fave), to a lost Sinatra watering hole (I know, I was born in the wrong era) – while plowing through my new life as a new(ish) mom to boy/girl twins.
I'm a relatively new NYC transplant to Northern Virginia where I live with my husband and kiddos. I have spent my life as a dancer, lucky enough to share a kickline with Robin Williams on the Oscars and shake my (literal) maracas on the Tonys with Hugh Jackman. I've been a showgirl in Vegas and Hollywood, on Broadway and on the road, and it was during my travels and life on tour that I discovered my nose and passion for wine. While studying wine through the WSET and the Court of Master Sommeliers, I worked in the cellar at Balthazar in New York, as a sometime sommelier, and as a brand rep for a French wine importer. I love a Bandol rosé (budget allowing- it's always Tempier) during the darkest winter days and a stroll through the Sunday Times Travel section all the year long.
When I first read the phrase, "volatizing the esters" in Lettie Teague's book Educating Peter, I thought it was both ridiculous and fantastic. It's a long-winded way of saying, "swirl the wine in your glass to activate its aromas." To me, it's also a great metaphor for my crazy life- swirled not stirred. I hope you enjoy my little blog- it's a mixed bag of interests usually finding their way back to vino. Thank you for visiting!  Cin Cin.