02. 05. 2013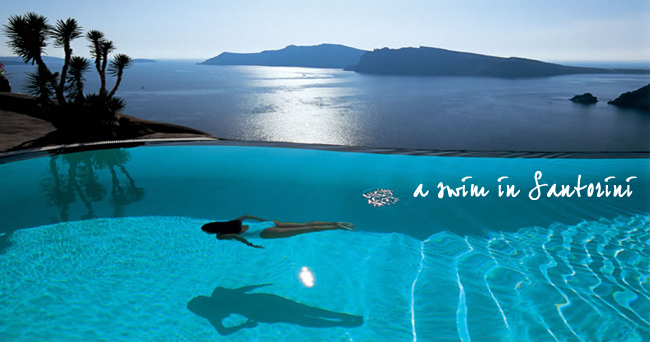 Going on a fabulous holiday in the Greek Isles? No? Well, just do as the Romans do (or in this case, Italians in general), and make it up. Apparently over 3 million Italians have been found to fib about a phantom holiday. Embarrased, ashamed- whatever, Italians feel pressure to lie about their vacations, or lack thereof, to keep up appearances. If you can't afford to take one, just make one up. Fake it 'til you make it? Hmmm. I came across this while reading Joanna Goddard's Cup of Jo. The Guardian article is from 2003, I can't imagine much has changed. Read the article here.
Better yet. Who needs a swim in Santorini? Well, ok- who doesn't, but as a very wallet friendly alternative, just plan a mini stay-cay with all things Greek.
Pick up a bottle of a Santorini white (Sigalas is my personal favorite but just look for the Assyrtiko grape) to start your holiday. I am loving the volcano these days. The mineral notes from the volcanic isle of Santorini along with hints of fresh lemon peel and sea salt may just make you want to jump up and do the Tsamikos. Prepare yourself a lovely feta, watermelon and mint salad and you're good to go. Joy the Baker's recipe here includes sesame seeds, a nice addition. Lay on the moussaka if that doesn't satisfy, it is February after all and you may need a more stick-to-your-ribs kind of meal. Netflix yourself some Summer Lovers-a hilariously cheese-filled romp through the Greek Isles starring a very young Peter Gallagher and Daryl Hannah- or better yet the Harry Hamlin Clash of the Titans which never disappoints if you are into cheesy 80s special effects and Burgess Meredith. I must have seen Clash of the Titans at least 100 times. Growing up, it was a favorite in our household. I later did Chicago with Lisa Rinna and had Harry sign a vintage Titans poster for my little bro. Maybe the best present ever. I mean really, who wouldn't want Perseus' John Hancock? But, I digress… Would you, or have you ever faked a vacay?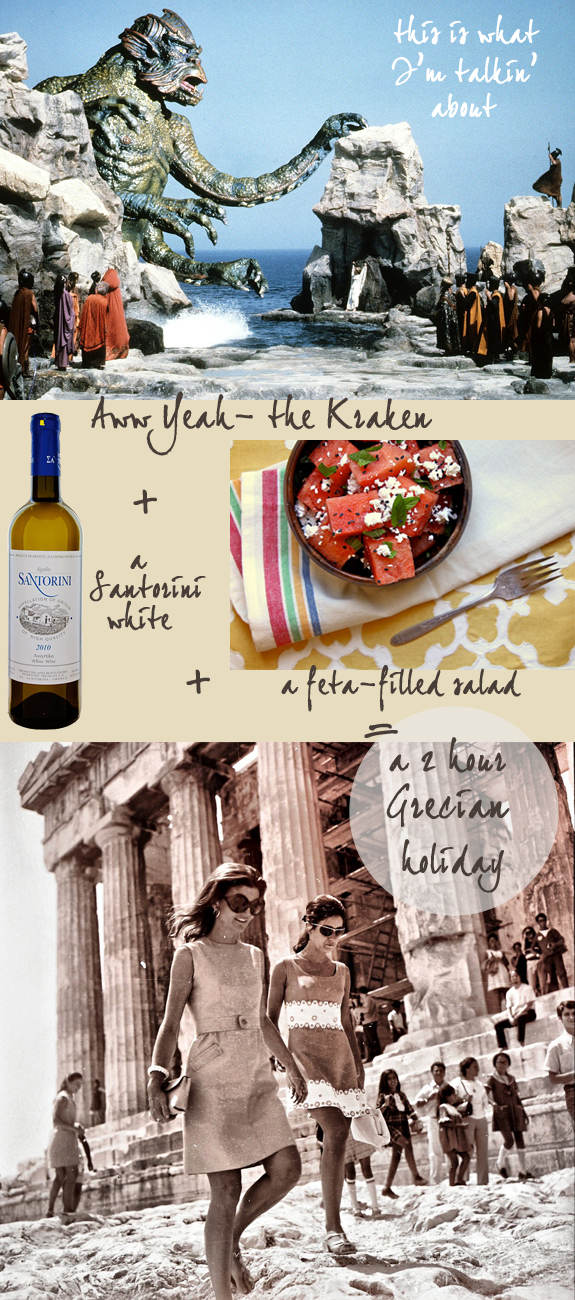 Ok, I know we'd all rather be frolicking at the Acropolis- especially alongside Jackie O.- but this is not a half bad alternative for a random Tuesday night in February.
{Image Credit: Infinity pool shots in Santorini, Perivolas Resort; Watermelon, Feta and Mint Salad by Joy Wilson, Jackie O. at the Acropolis from Russ Considine's private collection. }
Related posts: